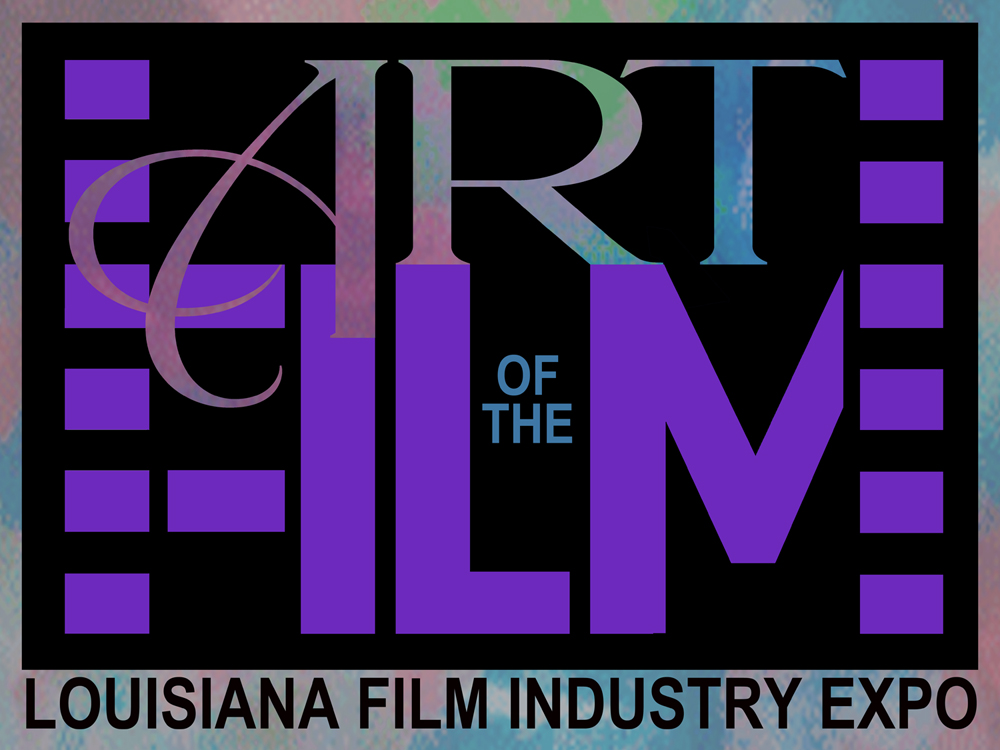 2023 ART OF THE FILM EXPO SESSIONS
FRIDAY, JANUARY 20
2:15 – 2:45 pm – Louisiana Entertainment Incentives and Impact
Christopher Stelly, Executive Group Director, Louisiana Entertainment & Digital Media
Louisiana's entertainment industry incentives are a major draw for filmmakers and digital media productions. Christopher will provide an inside look at the state's incentives and how the programs are creating opportunities for the next generation of Louisiana's content creators. He will also illustrate how the program benefits all Louisiana residents and will share expectations of the states future in film. His tireless stewardship of Louisiana's incentive programs and his business development efforts have led to tremendous growth in motion picture infrastructure statewide.
2:45 – 3:30 pm – Louisiana's Booming Film Industry
Trey Burvant, President, Louisiana Film Entertainment Association
Carroll Morton, Director, Film New Orleans | Mayor's Office of Cultural Economy
As the President of the Louisiana Film Entertainment Association, Trey Burvant works to support and promote Louisiana's robust and highly successful film and television industry. The City of New Orleans is now a major national production hub and remains Louisiana's top filming location, and Carroll Morton remains committed to continuing to expand the efforts of the film industry.
Collectively, the duo will address the challenges and opportunities of the film industry, including the increasing demand for local crews, partnerships in workforce training and the critical role of the state's motion picture incentives directly tied to Louisiana-based jobs.
3:45 – 4:45 pm – The Instrumental Role of Music in Film
Jay Weigel, Composer, Producer and Conductor
Reid Wick, Membership and Industry Relations, Recording Academy/GRAMMYs
With his extensive experience in scoring and producing music for the film industry, Jay is an invaluable resource for musicians who wish to explore career options relative to the film industry and beyond. Reid will focus on how and where films, videos and film music fit into the GRAMMY Awards, the business of music and the Recording Academy's membership opportunities and procedures.
This presentation will cover the many stages of incorporating music into film, the creative process, the use of music to enhance stories and create plot relationships within the film, the art of scoring and producing music for film, contracts and more. Musicians and aspiring musicians and their management and PR teams won't want to miss this session.
4:45 – 5:10 pm – Music Collaboration with Jamm Around
Donovan Williams, Chief Technology Officer
Donovan will present the award-winning JammAround technology, an all-in-one solution that streamlines the music composition process. The platform utilizes a proprietary Jammpad and discovery features that enable music creators to make music connections, collaborate and manage their compositions in the cloud.
5:10 – 5:30 pm – Silent No More – Scoring Silent Films
Dr. Ben Redwine, Classical and jazz musician and composer
Jazz musician Ben Redwine likes to say that he's never seen a silent film because within his mind, he "heard" the score as the film rolled. So he was delighted when he was contacted by a company from Chicago that wanted to hire him to write new scores for the silent films of Harry Langdon, a contemporary of Charlie Chaplin and all of the early silent film actors. Though all of Langdon's films were presumed lost, the company had collected segments from a number of his films from around the world, and these were spliced together to recreate the films.
Ben will share the story of the process of producing the scores with his band and the resulting three-DVD sets featuring the works of Harry Langdon, Charley Chase, and a mixture of films starring various actors.
The session is a sining example of the unique opportunities for musicians in the film industry. 
5:30 – 6:30 pm – Intellectual Property: Comics, Graphic Novels, Movies and More
Kody Chamberlain, Writer and Story Artist
Kody is a professional writer and story artist in comics, film, and television. Join him for an in-depth discussion on generating original story ideas, growing those ideas into viable properties, and bringing those properties to market. Kody will share his unique solutions to writer's block, stalling out, vetting projects, and finding openings when every door seems to be shut. This inspiring conversation is filled with insightful lessons, real-world examples, and practical techniques for creators of every level. He has created comics and graphic novels for DC, Dark Horse, HALO/343, IDW, Image, and Marvel Comics, and has served as a key story artist for Adhesive Games, NBCUniversal, Funny or Die, Sony, and Zack Snyder's Watchmen at WarnerBros. His originals have been optioned for development by Universal, MTV, and FOX, and he's currently working on a limited WWII series for television and writing two original comics for 2023.
SATURDAY, JANUARY 21
10:00 – 11:15 am – Songwriting for Film and Interactive Songwriting Session with Greg Barnhill
Greg Barnhill, Composer, Songwriter and Master Vocalist
Bring your paper and pen and get ready to be inspired! In this session led by Emmy Award-winning musician Greg Barnhill, attendees will work together to create an original song. Greg will offer an overview on the business of songwriting and production with a focus on writing songs for movies. He will also share information about the Ozone Music Education Foundation and the Ozone Songwriter Festival, both of which provide opportunities for aspiring and seasoned songwriters to collaborate and showcase their works.
11:15 am – 12:00 pm – Location is Everything: Scouting for Film Locations
Dan Zweben, Location Scout
Mickey Lambert, Location manager/scout
Whether it's a one-day shoot for a commercial, or a multitude of locations for extended shoots, location scouts and location managers are tasked with delivering the perfect setting for every scene. Dan Zwebert and Mickey Lambert will share insight as to how locations are selected, their experiences in delivering those scenes and the do's and don'ts of listing properties for consideration.
12:00 – 12:30 pm – Reel Scout: The easy way to list your property for use in filmmaking
Roberta Carrow-Jackson, Multimedia Content Manager and Film Commissioner, St. Tammany Parish Tourist and Convention Commission
When productions are being filmed, the filmmakers typically have very specific visions as to the many locations in which they will be shooting. With access to Reel Scout software, individuals can upload information about their properties for consideration for the use in films. In this session, Roberta will provide a demonstration of the software and will share her experiences in working with location scouts seeking to find the perfect spots for every scene.
12:30 – 1:15 pm – Lunch break – Louisiana Film Showcase on the auditorium main stage, "Art of the Poster" exhibition in the George Dunbar Gallery in Slidell Cultural Center at City Hall
1:15 – 1:45 pm – Casting: how to land gigs in films and commercials
Hunter McHugh, On the Hunt Casting
Have you ever wondered what it would be like to serve as an extra in a movie? Have you contemplated auditioning for speaking roles? In this session, Hunter will share his experiences and invaluable information as to the process of registering to serve as an extra and what to expect. You'll learn how talent is sometimes "discovered" and how a role as an extra can develop into so much more.
1:45 – 2:20 pm – Acting for Commercials and Films
Veleka Gray, Master Acting Coach
Veleka has been a professional actress since she was eight years old. Her passion for the craft led her to Hollywood, where she quickly rose through the ranks, soon becoming the female lead in one of the top romantic couples in daytime television. After the tragic loss of her on-screen and off-screen romance, Joel Crothers, she transitioned from acting to teaching, finding it both cathartic and fulfilling. She now serves as a Master Acting Coach while also exploring screenwriting and filmmaking. This fun session will include a bit of audience interaction with live acting coaching.
2:30 – 3:00 pm – Acting: from Background to SAG
Eric Lamulle, SAG Actor
Even if you've never contemplated acting, you're sure to enjoy this high energy and highly entertaining presentation. Eric landed on the set of a film after losing a bet to a friend he has known since high school. He was instantly smitten and has since turned that gig into a full-time career. Join him as he presents the journey of his experiences on set, the story of how a single sentence increased his pay ten-fold, and the lessons he has learned along the way.
3:15 – 3:50 pm – Training for military veterans: careers in the film industry
DeAnna Charett, Founder, Bad Habitz Organization
In 2020, U.S. Air Force and U.S. Army Reserves veteran DeAnna Charett launched her own Baton Rouge-based production company, Bad Habitz Productions, a 501(c)(3) through which she creates documentaries, feature films, short film and episodics. Through Bad Habitz, she offers free training for veterans toward careers in film, featuring local film industry professionals serving as instructors. Upon completion of their training, veterans are able to gain experience working on projects produced by Bad Habitz Productions, paving the way for work in the local and national film industry.
In this session, DeAnna will share information about Bad Habitz Organization and the services available to veterans, as well as her own personal story of catharsis through these efforts.
4:00 – 4:50 pm – Hollywood Life: The Backstories – Linda Thurman
Linda Thurman, Executive Director, Movie Poster Archives
Sure, the film industry produces entertainment. But what's really happening behind the scenes? Linda Thurman, former Hollywood executive and author of Hollywood South: Glamour, Gumbo and Greed, will offer anecdotes and interesting stories from "behind the curtains" of the film industry. It's an amusing and entertaining session featuring some of the many colorful characters and events she has encountered in a storied history within the industry.
5:00 – 6:00 pm – Looking Back: Highlights of Louisiana Film History by Decades
Ed Poole, Film Accessory Researcher
Louisiana's filmmaking history precedes the dawn of the industry in Hollywood. Ed will take the audience on a journey of highlights through the years, from the state's inaugural film studios to its first movie theater, plus Tarzan in Louisiana's "jungles," Billy the Alligator and more. If you love movies, you'll be mesmerized by this captivating presentation shared by a master storyteller.
Expo After Hours – Live Entertainment
Friday, January 20 – 7:00 – 8:30 pm – Songwriting and the Music of Films
Presented by Ozone Songwriter Festival
Greg Barnhill will open the evening of entertainment with a preview teaser of his Expo Songwriting Session scheduled to be presented Saturday, January 21 at 10 am at the Slidell Municipal Auditorium. Immediately following the preview, there will be live entertainment by Greg and Friends featuring the music of movies as well as original songs and the stories behind them. A special performance by Claire Kellar, the Ozone Songwriter Festival 2022 songwriter contest winner will close out the party and debut her new single, "Lifeline" prior to its midnight release that same night.
The Wine Garden, 300 Robert Street in Olde Towne Slidell.
Saturday, January 21 – 6:30 – 7:30 pm – The Music of Film with Northshore Community Orchestra
Presented by the City of Slidell
The Northshore Community Orchestra is the only symphony orchestra in St. Tammany Parish in which both youths and adults can make learning and performing music a lifelong endeavor. The orchestra, established in 1987, consists primarily of members from Slidell, Lacombe, Covington, Mandeville, and Abita Springs, plus surrounding parishes in the Greater New Orleans area and south Mississippi. Members are students, medical professionals, engineers, skilled tradesmen, scientists, homemakers, members of the military, educators, and retirees. Though student members typically begin with the orchestra when in late middle school or junior high, currently the orchestra's youngest member is 9 years old and the oldest is in his 80s. Some are family members who play together – spouses, parents/children, and siblings.
Slidell Municipal Auditorium. Free and open to the public. 
In Slidell City Hall
Art of the Poster exhibition, a celebration of the artistry in the creation of movie posters. Presented by Hollywood on the Bayou and Movie Poster Archives and hosted by the City of Slidell in the George Dunbar Gallery in the Slidell Cultural Center. On view through February 17, with special hours during Art of the Film Expo. Free and open to the public.
See the 2022 session videos here.